Ready or Not is a 2019 American black comedy supernatural horror thriller film film directed by Matt Bettinelli-Olpin and Tyler Gillett from a screenplay by Guy Busick and R. Christopher Murphy. The film stars Samara Weaving as a newlywed who becomes hunted by her spouse's family as part of their wedding night ritual. Mark O'Brien portrays her husband, with Adam Brody, Henry Czerny, and Andie MacDowell as members of his family.
Ready or Not had its world premiere at the Fantasia International Film Festival on July 27, 2019, and was theatrically released on August 21, 2019 by Fox Searchlight Pictures. It grossed $53 million against a $6 million budget, and received generally positive reviews from critics, with Weaving's performance and the film's blend of humor and thrills being praised.
Plot
The wealthy Le Domas family hosts a generations-long tradition of playing a game at midnight on the wedding night with each new addition to the family. In a flashback many years ago, young Alex Le Domas and his brother Daniel witness the killing of a man named Charles, who has just married their aunt Helene.
Thirty years later, Alex – who has been estranged from his family for years – returns to the Le Domas estate to marry a young woman named Grace. While he is hesitant to be back, Grace is reassuring and eager to become part of his family. After the ceremony, Grace is informed of the family initiation custom and meets with the rest of the in-laws. Participating in the tradition with Grace are Alex, his alcoholic brother Daniel, their father Tony, their mother Becky, Daniel's snobbish wife Charity, Alex's drug-addicted sister Emilie, Emilie's whiny husband Fitch Bradley, and the somber Helene, who is Tony's older sister.
Tony explains that Grace must participate in a session where she is required to draw a card from a mysterious wooden box and play the game written on the card with the Le Domases to be a full-fledged member. Tony also recounts that his great-grandfather Victor Le Domas made a deal with a man named Mr Le Bail where Le Bail would help create the Le Domas fortune if the Le Domas family established the tradition. Grace draws from the box a card that reads "hide and seek". Believing the game to be harmless, Grace leaves to hide in the estate while the Le Domas family, excluding Alex, arm themselves with antique weapons to hunt her down.
Alex manages to find Grace before his family, and the pair witness Emilie accidentally kill one of the estate's maids by shooting her in the head with a shotgun. Alex explains that hide and seek is the only game from the box that would prompt the Le Domas family to try to kill Grace, and he didn't tell her believing the odds of the game were unlikely. The Le Domas family believes that if they fail to kill Grace before dawn, they will all die as agreed by Victor Le Domas and Mr Le Bail (whose name is an anagram of Belial, an alias for Satan), decades earlier. Grace is overwhelmed and furious at Alex having not told her about the ritual for fear that she would leave him. Against his family's wishes, Alex promises to Grace that he will help her escape the estate and then heads to the house's security room after instructing her to go to the exit at the kitchen.
While looking for the exit, Grace encounters a second maid, who is inadvertently killed when Grace activates the mechanical dumbwaiter elevator system to silence her. Daniel who, like Alex, hates the nature of his family, discovers her in the study. Grace pleads with him for help, but he laments that he has no options and grants her only a ten-second head start to run before alerting the others. Alex deactivates the estate's security cameras and unlocks the doors of the house. However, he is discovered by his family who capture and restrain him for his betrayal. Grace, having torn her gown to increase her mobility and armed herself, manages to escape the house after eluding the family's butler Stevens (by scalding him with boiling water).
The family members regroup and bemoan their difficulty in capturing Grace, but reiterate the urgency of finding her before sunrise. During this discussion, a third maid is accidentally killed by Emilie with a crossbow through the head. Stevens informs the family that Grace has left the house, but promises to capture her. Grace takes refuge in the barn on the estate grounds, but after being shot in the hand by Emilie's son Georgie, falls into the "goat pit" where the family hid the remains of previous victims. Grace is able to climb out, but is further injured while escaping through a fence in a fruitless attempt to flag down a passing motorist. On the road, Stevens chases after Grace in a car, but she manages to temporarily incapacitate him after he gets out to restrain her.
Attempting to drive off with the car, Grace contacts the vehicle assistance company, but the car was reported stolen and they disable it remotely, allowing Stevens to tranquilize and capture Grace. While Stevens drives her back to the estate, Grace awakens and causes him to crash the car, killing him. However, Grace is discovered by Daniel who, knowing that Tony is secretly watching, knocks her out again and recaptures her. The Le Domas family prepares to sacrifice Grace in a Satanic ritual. After the family drink from a cup of wine as part of the ritual, they all begin to vomit, except for Daniel who non-lethally poisoned the wine, coming to the belief that his family deserves to die.
Meanwhile, Alex escapes his captivity. Daniel frees Grace and they attempt to leave the house before Daniel is shot and killed by Charity. Grace starts a fire, which is ignored and steadily takes hold as the family continues to pursue her. She gets into a fight with Becky and manages to beat her to death with the box. Alex arrives and, realizing that even if he lets Grace live, she won't want to be with him, captures her.
The family try again to sacrifice Grace. Alex, finding himself unable to kill his wife, stabs Grace in her shoulder instead of her heart. Just as dawn breaks, Helene makes a last-ditch attack with her axe, but without warning she explodes into a cloud of gore. The other members of the family look at each other shock in horror; some try to flee, as Tony pleads for a reprieve to Mr. Le Bail but all explode one by one. Last to go, Alex begs Grace for forgiveness, but explodes when Grace demands a divorce.
As the flames break into the room, they briefly form the outline of Mr. Le Bail sitting at the head of the table. He makes eye contact and nods in approval as Grace turns to escape, covered in the blood of the exploded Le Domas family members. Outside the house, Grace sits on the garden steps as the fire blazes behind her, her wedding dress scarlet with blood, and smokes a cigarette as first responders arrive. When someone asks her what happened, Grace shrugs and replies, "In-laws".
My Personal Thoughts
The trailer for Ready or Not, the black comedy horror film, made it obvious the Le Domas family would go to hunt Samara Weaving's Grace on her wedding night as part of some sadistic ritual. However, the footage depicted that her new husband, Alex (Mark O'Brien), was on her side.
While it seemed they'd be on their own in this game of predator and prey, the film's final act offers Samara a surprising villain, as it's Alex himself who betrays her, shocking audiences as he tries to help his family to finish the job.
Grace is targeted because the Le Domas family wants to sacrifice her to Satan after she drew the hide-and-seek card after the wedding. It's tradition to play games, but this death card is a means to repay the devil for offering wealth to the family. But from the get-go, Alex tries to save his new bride, offering clues about where to hide and attempting to switch off the house's security lockdown so Grace can escape, only for him to be incapacitated by his own family.
Alex had no choice but to marry Grace because, even if they eloped or simply lived together, the devil would drain her life essence as they forged a bond through love. He hoped she'd draw another card from the box Satan sent to the family, and that instead play a boring board game like his siblings' spouses had. But, alas, things don't go according to plan, leaving him chained in his bedroom while Grace tries to survive.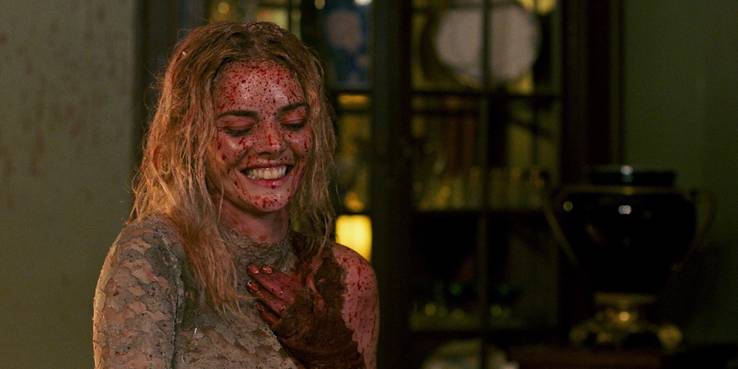 Luckily, the wily Grace fights him off and, as dawn arrives, the man we thought was a hero finds himself facing a bloody fate. One by one, the family members, including children, start to explode in the occult room, splattering guts all over the bride. The prophecy of failure was true, and they're paying the price. But Alex begs Grace's forgiveness so he can live. She laughs him off, telling him she want a divorce as she gives back the wedding ring, and watches him as he explodes.
It's the price for falling back in line with his demented family, creating one of cinema's goriest endings. As Grace surveys the damage in her now-crimson dress, she sees the ghost of Le Bail, the merchant Satan used to offer the Le Domas family the box centuries earlier, and acknowledges amid all the violence, every death was worth it so she could have her freedom.
Directed by
Matt Bettinelli-Olpin Tyler Gillett
Produced by
Tripp Vinson James Vanderbilt Willem Sherak Bradley J. Fischer
Written by
Guy Busick R. Christopher Murphy
Starring
Samara Weaving Adam Brody Mark O'Brien Henry Czerny Andie MacDowell
Music by
Brian Tyler
Cinematography
Brett Jutkiewicz
Edited by
Terel Gibson
Production
companies
Mythology Entertainment Vinson Films TSG Entertainment
Distributed by
Fox Searchlight Pictures
Release date
July 27, 2019 (Fantasia) August 21, 2019 (United States)
Running time
95 minutes
Country
United States
Language
English
Budget
$6 million
Box office
$57.1 million