Ad Astra is a 2019 American science fiction adventure film produced, co-written, and directed by James Gray. Starring Brad Pitt, Tommy Lee Jones, Ruth Negga, Liv Tyler, and Donald Sutherland, it follows an astronaut who goes into space in search of his lost father, whose experiment threatens the Solar System.
The project was announced in early 2016, with Gray saying he wanted to feature "the most realistic depiction of space travel that's been put in a movie". Pitt signed on to star in April 2017 and the rest of the cast joined later that year. Filming began around Los Angeles that August, lasting through October.
Ad Astra premiered at the Venice Film Festival on August 29, 2019, and was theatrically released in the United States on September 20 by 20th Century Fox. It received positive reviews from critics, with praise for Pitt's performance and vivid imagery, but was a box-office bomb, having grossed only $127 million worldwide against a $80–100 million budget.
Plot
In the near future, the Solar System is struck by mysterious power surges, threatening all human life. After nearly dying from an incident caused by a surge, Major Roy McBride, son of famed astronaut H. Clifford McBride, is informed by U.S. Space Command (SpaceCom) that the surges have been traced to the "Lima Project" – created 26 years earlier to search the limits of the Solar System for intelligent life, under Clifford's leadership – from which nothing has been heard for 16 years after reaching Neptune. Informed that Clifford may still be alive, Roy accepts a mission to travel to Mars to try to establish communication with him, joined by his father's old associate Colonel Pruitt. It is shown in several scenes that Roy is very emotionally detached. He has no emotional reaction to his wife leaving him, or to the news that his father may still be alive.
After taking a commercial flight to the Moon, Roy and Pruitt are escorted by US military personnel to the SpaceCom base, located on the far side of the moon. En route in lunar rovers, they are ambushed by scavenging pirates who kill their entire escort. Upon arrival at the base, a dying Pruitt is placed into intensive care. Roy transfers to the ship Cepheus, bound for Mars. The ship receives a distress signal from a Norwegian biomedical research space station. Captain Tanner has the Cepheus stop to investigate despite Roy's protests, and Roy and Tanner make their way to the station. It appears abandoned and the two split up, but Roy soon discovers an escaped baboon test subject feeding on Tanner, who is severely injured in the face. It attacks him when it notices his presence, but he manages to kill it. Another baboon attempts to attack him, but he quickly subdues it and locks it in another module. He then kills it instantly as it attempts to open the door, by depressurizing that module. Believing that he can save Tanner, he tapes over the broken helmet visor of his spacesuit and carries him back to the ship, where he is declared to be already dead. A brief service is held where Tanner's body is ejected into space. Again, Roy appears to be very emotionless and calm after the violent encounter and death of Tanner. He does admit that he experiences rage, and recalls his father expressing his rage.
Another surge hits as the Cepheus lands on Mars, requiring manual piloting to complete the landing. The interim captain freezes in fear, while Roy remains very calm and takes command of the ship, landing it safely. Roy is led to the underground SpaceCom base where he meets facility director Helen Lantos and is tasked with recording voice messages to send to the Lima Project in hopes that Clifford will respond. During one recording, Roy goes off-script with an emotional appeal to his father and is abruptly taken off the mission on the grounds of his personal connection posing a risk to himself and the mission's success. From the startled reaction of the recording observation team to his emotional recording, he assumes correctly that immediate response from his father had been received and demands to hear it.
Sequestered in a "comfort room", he is visited by Lantos, who reveals that she was born on Mars and was the daughter of Lima Project crew-members. She shows Roy classified footage revealing that Clifford's crew had mutinied and tried to return to Earth, causing him to turn off their life-support systems, her parents included. She tells Roy that the crew that brought him to Mars are leaving to destroy the Lima Project station with a nuclear payload. The two decide that Roy should confront Clifford himself, and Helen sneaks Roy to an underground lake beneath the rocket launch site.
Roy clandestinely climbs aboard as the rocket takes off and is subsequently discovered by the crew, who are instructed to neutralize him. The entire crew is inadvertently killed in the ensuing confrontation. During the long journey to Neptune, a solitary Roy reflects on his relationships with his father and Eve, his estranged wife. The isolation and stress of the mission take a mental toll, but after a couple of months, he arrives at the Lima Project. While approaching the station in a shuttle attached to the Cepheus, the shuttle is damaged in a collision with objects in Neptune's rings and from another surge, preventing it from docking with the station. Roy enters the station via a space-walk while the shuttle drifts away. Finding the station abandoned and encountering the dead bodies of its crew, he plants the nuclear payload before encountering Clifford, the station's sole survivor, who explains that the surges are coming from the ship's malfunctioning antimatter power source, which had been damaged in the mutiny. Clifford has continued to work on the project, refusing to lose faith in the possibility of non-human intelligent life.
Roy copies data gathered by Clifford and his team for the "Lima Project" and persuades Clifford to accompany him back to Earth. He arms the nuclear payload and they climb out on the station's surface in preparation for returning to the Cepheus. Clifford suddenly uses his spacesuit's thrusters to launch the two of them off into space. With Clifford pleading for Roy to untether them from each other, Roy reluctantly does so and manages to propel himself back to the Cepheus using his own spacesuit and with a piece of the station's hull as a shield against Neptune's ring debris. Without enough fuel to return to Earth, he relies on the shock wave from the nuclear explosion in the station to gain the required speed.
The data retrieved from the base suggests that humans are the only intelligent life in the universe. This inspires Roy to reconnect with those closest to him, and he returns to Earth with a newfound optimism. After expressing his opinions in a psychological evaluation, he reconnects with his estranged wife Eve.
My Personal Thoughts
The masterful sci-fi sees Brad Pitt play astronaut Roy McBride whose father (Tommy Lee Jones) might just be responsible for a series of electrical storms, despite disappearing on a space mission 16 years ago.
So Roy sets out on his own mission to discover the truth behind his father's disappearance, but does Roy succeed?
Ad Astra has now landed in cinemas after some unfortunate delays, but it's proved to be worth the wait and packs a punch with its ending.
The masterful sci-fi sees Brad Pitt play astronaut Roy McBride whose father (Tommy Lee Jones) might just be responsible for a series of electrical storms, despite disappearing on a space mission 16 years ago.
So Roy sets out on his own mission to discover the truth behind his father's disappearance, but does Roy succeed?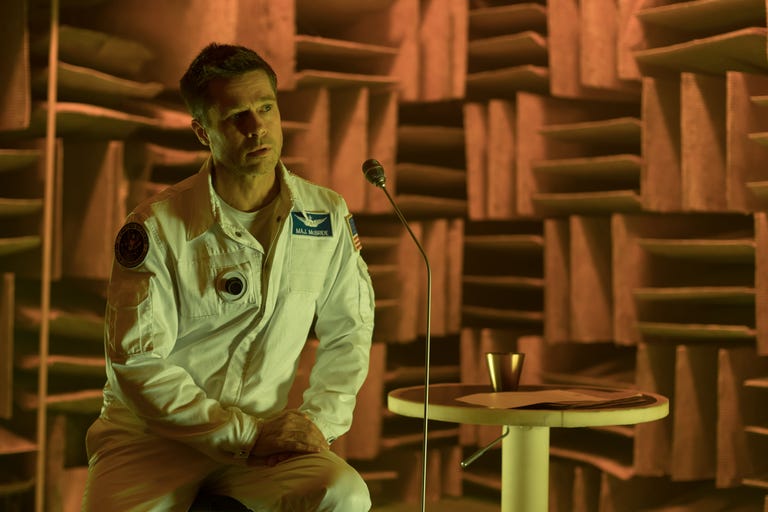 Roy's journey is far from a smooth one. When we first meet him, he literally falls to Earth as a result of one of those electrical storms, which – Roy is told – come from cosmic-ray bursts near Neptune.
That's where Project Lima, which Roy's father Clifford was a part of, was last thought to be and NASA believes that the cosmic rays are caused by the antimatter used in the project. They believe that Clifford is carrying on the experiment, unaware that it now threatens the very existence of mankind.
So Roy sets off on his journey, initially just to get to Mars and send a message to his father, fighting off moon pirates and some rabid primates aboard an abandoned shuttle along the way.
He's shown an SOS message from Project Lima by a friend of his father, Colonel Pruitt (Donald Sutherland), that says Clifford intentionally disabled communications. But it's not until he's on Mars that Roy finally learns the truth about his father.
After Roy's kicked off the mission for being too emotional in his message to his father, Helen Lantos (Ruth Negga) – whose parents were on Project Lima – tells him that Clifford killed everyone else on the project, fearful of them mutinying against him.
Roy sneaks on to the shuttle heading to Neptune, but not without unintentionally killing the rest of the crew when they try to stop him boarding during take-off. Given that the journey lasts 79 days, he has plenty of time to mull over his decision with the isolation challenging his mental state.
When he reaches Neptune, Roy is reunited with his father, who has been carrying out the Project Lima experiment all these years. Clifford blames the Project Lima crew for their deaths, saying that they "never cared" and wanted to quit to head back to Earth.
"You and I have to continue on together to find what science claims does not exist," Clifford pleads to Roy who replies: "We're all we've got."
The decision to have Ad Astra's big reveal be that there's no other life in the universe is likely to be one that causes debate, but it also delivers a powerful message.
"What's frightening for me is if there are aliens out there who are gonna come get us, kill us or eat us or whatever. There will be people who will be upset about it, but I don't know why because why does it freak us out or terrify us that we have each other. That seems OK to me," he said.
After the reveal, Roy persuades his father to give up and come home with him, putting an end to the experiment by blowing up the equipment. But Clifford has no intention of returning to Earth. When they head out the airlock to go to the shuttle, Clifford forces Roy to cut him loose and he drifts off into space.
Roy uses the explosion to kickstart his journey back to Earth, and the movie ends with Roy safely back home, hinting at a potential reunion with his wife.
The sequence after he returns was shot this year due to Pitt not being available earlier because he was filming Once Upon a Time in Hollywood. But it wasn't added because Gray felt the need for a different ending.
"There's a famous Arthur C Clarke quote about it, either we are alone in the universe or we are not, both are equally terrifying, and that's true. But, at the same time, Earth's pretty good. I've got my wife and children and they're great, and I can find plenty of joy in that.
"To rely on false Gods, the idea that there's these little green men out there that'll either save us or eat us, to me that's more horrifying than having to rely on other people."
"The ending was always part of the design where the guy reaches into the space capsule, and the camera pulls back. Then there was an added coda, the psych eval where he finishes by saying, 'Submit', which was something that I had added," he explained.
"We wanted to make sure the audience understood his transcendence. Not that he was alright and he was gonna be doing great, but that he had been able to come out the other side.
"It was my intent never to make a downer or downbeat movie because, unlike his father, he breaks the cycle and he returns to the Earth. So I wanted his transcendence to be clear. We always thought of it as a coda."
Directed by
James Gray
Produced by
Brad Pitt Dede Gardner Jeremy Kleiner James Gray Anthony Katagas Rodrigo Teixeira Arnon Milchan
Written by
James Gray Ethan Gross
Starring
Brad Pitt Tommy Lee Jones Ruth Negga Liv Tyler Donald Sutherland
Music by
Max Richter
Cinematography
Hoyte van Hoytema
Edited by
John Axelrad Lee Haugen
Production
companies
Regency Enterprises Bona Film Group New Regency Plan B Entertainment RT Features Keep Your Head Productions MadRiver Pictures TSG Entertainment
Distributed by
20th Century Fox
(Worldwide)
Bona Film Group
(China)
Release date
August 29, 2019 (Venice) September 20, 2019 (United States)
Running time
124 minutes
Country
United States
Language
English
Budget
$80–100 million
Box office
$127.2 million